Campus life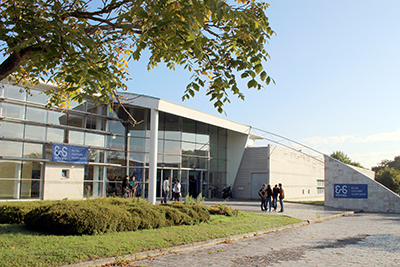 Life on Ker Lann campus

Students can take advantage of the dynamism of Rennes and the facilities offered by the different campuses for cultural and sports activities. Most students live in the centre of Rennes, at the heart of the university city where they enjoy a very high quality environment.
More specifically, student life at ENS Rennes is organized around the students' union, the arts association, the sports association and the many affiliated clubs which enjoy the use of dedicated premises on the Ker Lann campus and support from the school.
More information on:
www.bde.ens-rennes.fr
Inaugurated just over 20 years ago, Ker Lann campus brings together higher education institutions, a faculty of trades, vocational training schools and innovative companies, all within its 165-hectare wooded grounds on the outskirts of Rennes.
Below you can find some information that will help you to find your bearings on the campus.
Restaurants
Students at ENS have access to all university restaurants (RU) managed by the CROUS of Rennes. Ker Lann university restaurant is situated at Contour Antoine de Saint-Exupéry:
Self-service restaurant: Monday to Friday from 11:30 am to 1:30 pm– 500 seats.
Cafeteria: Monday to Friday from 11:30 am to 2:30 pm – 170 seats.
Sale of cards: Monday to Friday from 11:30 am to 1:15 pm
Rates: €3.20 (student)
Tel: +33 (0)2 99 05 06 30
Email: ru.bruz@crous-rennes.fr
In addition, the brasserie "Le Forum" is open to all, Monday to Friday from 8:30 am to 9:00 pm. It has 40 seats on the ground floor (bar, brasserie, pizzeria), and 120 seats upstairs (restaurant).
Sports equipment
It is possible to practise various sports activities on Ker Lann campus:
1 multipurpose sports hall: badminton, basketball, team handball, volleyball,
1 hall with 2 indoor tennis courts; this is also a multipurpose sports hall (badminton, volleyball, basketball, table tennis), open from 8:00 am to 6:00 pm from Monday to Friday,
1 grass football/rugby pitch,
1 athletics track,
2 outdoor tennis courts.
In addition, sandy paths border the entire campus, providing a pleasant trail for joggers or walkers.
Ker Lann Students'Association (ADEK)

This association is for all students living on campus, i.e. those of the 17 schools present on the site and the inhabitants of student residences.The association, which is made up of students from the various schools, aims to bring life to the campus through different projects, by bringing students together around various topics with which everyone can identify.
Facebook : ADEK Campus Ker Lann
Email : adek35@gmail.com


Date of update June 26, 2017
---
In the same section